Okay, this is one of my all time favorites!! I've watched it many times and will most likely watch it again. For anyone who hasn't seen it, "Rebecca" stars Joan Fontaine (one of my favorites) and Laurence Olivier. It is directed by Alfred Hitchcock. Have I mentioned before how much I LOVE him! Well, I do.
Why do I love this move so much? Well, I love movies with a twist. A story line that you think you know where it's going, but nope, it heads off in an entirely different direction in the end.
"Rebecca" is thriller and mystery that keeps you guessing. Did Maxim kill his ex-wife? Why is the housekeeper lady so creepy, and what is she hiding? What really happened to the first Mrs. de Winter? Does Maxim want to kill his new bride?
And the ending of "Rebecca" doesn't disappoint either. Everything is wrapped up nicely. The inquisition into the first Mrs. de Winter's demise clears up all the mystery surrounding her death. And the fire at the end that burns up the Manderley estate is perfect for a couple of reasons (for me anyway).
First, the old creepy housekeeper pretty much gets what's coming to her. She one of those characters you love to hate.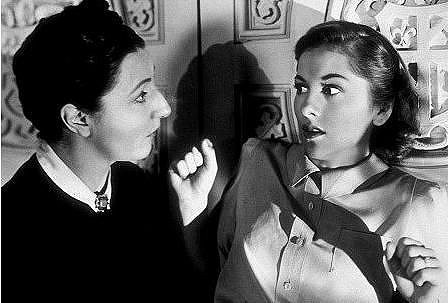 And second, the fire destroys all the old memories of Rebecca. Her clothes, her stationary, her room and all those little reminders that haunted the second Mrs. de Winter and prevented her from having the happy marriage she so badly wanted. The past is gone. She and Maximum can finally put it all behind them and move on to a happy life together.
I highly recommend this movie. If you haven't seen it you're missing out on a great thriller/mystery.